There are several reports around Lubbock of 4.5" to 6" of snow. The snow is tapering off this afternoon, we'll get an official report from the National Weather Service a little later this evening.
As expected, heavier snow stayed south, lesser amounts were reported north. Around Lamesa it was 8" to 9". We'll update this story when a full listing of totals is available.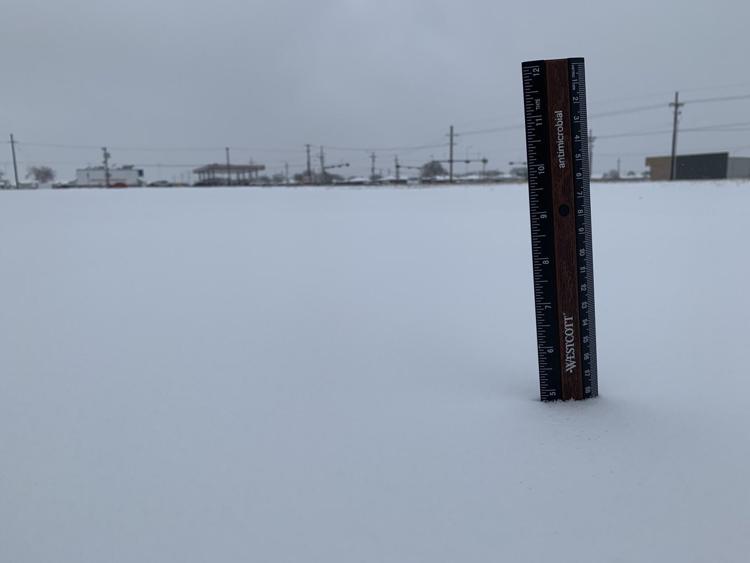 The great news is this had about 1/2" of liquid equivalent. Meaning once it's melted down, that's about a half inch of much-needed moisture. It's been a long time since we've had this much widespread moisture across our area. 
Compared to the snow on major streets a few hours ago, now they're mainly wet and in pretty good shape. But there will be re-freezing tonight, leading to icy streets. Images from City of Lubbock. @fox34 pic.twitter.com/9by7heffkO

— Matt Ernst (@matternst34) January 10, 2021
Lone cowboy snowman & snow-couple.#txwx Littlefield, Texas10 January 2021Cc: @matternst34(Yes, the snowwoman is wearing a 2020 hat. ha! The snowman is wearing a welder's helmet and a tool-belt. He had to 'suck it in' to get the belt to fit around his waist.🤪) pic.twitter.com/tHH16fyGyO

— Anita (@HSBSuzanne) January 10, 2021
@matternst34 @NWSLubbock Some photos of the snow in Ralls today. Stay safe and warm everyone! pic.twitter.com/SLoWVE9nn5

— flutter_jul (@solisjulie28) January 10, 2021
Fearless and I had some fun in the snow this morning!! This weather feels like home (CO) to me and I don't think Fearless minds it either. I think he may have been more interested in the treats in my pockets than the snow...❄️❄️❄️#ttumaskedrider #FearlessChampion #wreckem pic.twitter.com/mRwwVANt9l

— TTU Masked Rider (@ttu_maskedrider) January 10, 2021
The snow was deep on the roads to @TexasTech campus, but worth it to get this early morning scene. 🤩🥶 pic.twitter.com/amYUZytnkH

— Ashley Rodgers (@arodgers_photo) January 10, 2021
Roads are in pretty good shape during the daylight hours. But with less traffic, at night, with a dropping temperature, you can expect many surfaces to re-freeze. With the ice, it'll likely be worse to drive Monday morning than Sunday morning, even though we're done with the snow falling from the sky. Updated school delays/closures/schedule changes are posted here.
TONIGHT: The temperature forecast is tricky because of clouds. It looks like it'll stay mostly cloudy much of the night. And there is some humidity in place, so the temperature can only drop so much. At this point we expect mid-teens around Lubbock. Some single-digit readings are possible over the western South Plains, if there are a few hours of clearing.
TOMORROW: Mostly sunny but cold. High in Lubbock near 35. Mid 30s are expected where at least 6" of snow fell. North of Lubbock it should climb into the 40s, with less snow on the ground.
THIS WEEK: It'll be sunny, with the snow melting away next few days. It'll be milder by late week.
Have a great evening and stay warm. We'll have a full update on road conditions, the forecast and how some dealt with the weather tonight on FOX34 News at Nine.
-Matt