This morning the low level moisture returned for most of our area keeping temperatures warm. Lubbock dropped on to 66 degrees, the record warmest low for today is 68.
TODAY: Multiple things to look at in our area with the dry line. To our west dry air with critical risk for wildfires again, Red Flag Warning until 9pm. The image below also shows the Three Rivers Fire in New Mexico that has burned over 6,000 acres already.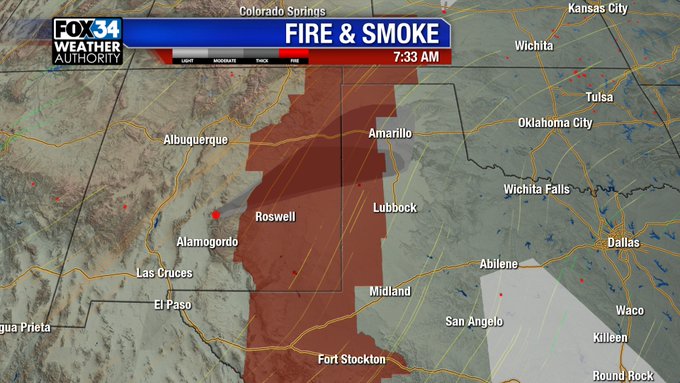 Along and east of the dry line through today a chance for storms to develop. Severe storms possible with large hail, frequent lightning, heavy downpours, and high wind. The Storm Prediction Center as of 10a has Lubbock and our eastern counties under a slight level (2 of 5) for this development to happen. Unfortunately we all don't get the rain we all need. High near 85 with a gusty southwest wind.
TONIGHT: The dry line retreats back east and may quickly develop additional storms that looks to diminish in the early morning hours. Low near 54.
WEDNESDAY: A cold front begins to push into the Panhandle and shower and a few storms will develop with it. This may stay north of our area for much of the day, then brings rain chances in our area through early Thursday. Highs ahead of the is front in the 70s ans 80s and gusty again. 
EXTENDED:The cold front moves through dropping highs to the 60s and 70s Thursday, then much warmer with highs back in the 90s this weekend. We will dry out with more sunshine, but wind speeds become gusty again starting Saturday. 
Stay weather aware today especially if you are east of I-27. Again large hail over 2" possible with heavy rainfall. -Meteorologist Bobby Johnston