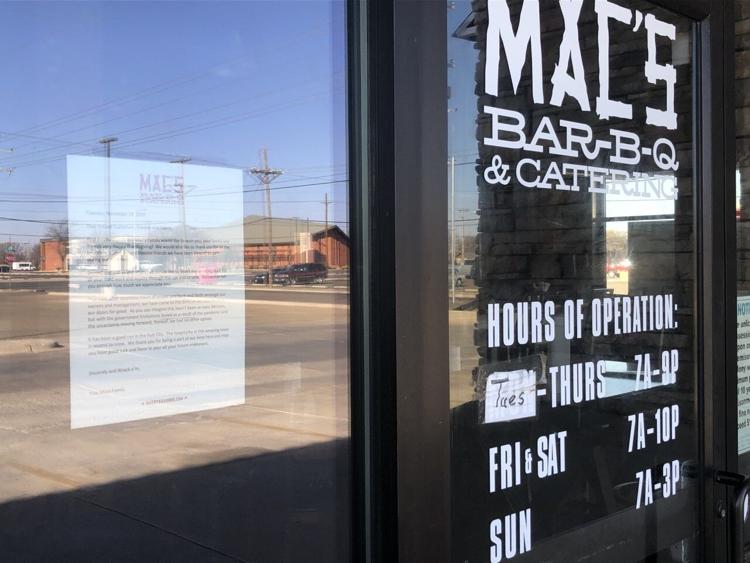 Another Lubbock business folds under the crushing weight of the pandemic.
This time it is Mac's BBQ & Catering on Slide Road.
The regional chain, founded by Texas Tech alumni, was established in Lubbock about 2 years ago.
"A lot of us are just, teetering really on the edge. I think a lot of us, obviously, are working 300% of a normal day, pre-covid," Lubbock Restaurant Association Chris Berry, said. " I don't think any of us expect to make a living off this, doing this for you know for another 2 years," he said. 
The last nine months have been doable for some, but not all.
At least a dozen or so have been unable to keep the lights on, despite the organization's efforts.
"What we've focused on, really since March was disseminating all the information, any and all that we get, to anyone we can, whether you're members or not. We just want everyone... to make it, probably not going to happen but we're going to do our darndest to get there," he said.
In a letter addressed to its customers, Mac's management cited having no other option but to close the Lubbock location for good, due to "government limitations" and an "uncertain future."
An uncertain future that concerns other owners, like Berry himself.
"Everyday it's, what can we save money on? What can we do, what can we cut costs on? " he said. "Really focusing on how do we keep all of our 60 or so employees going," he added.
Despite a robust take-out program, River Smith's, the restaurant he co-owns, has seen a 20% decline in revenue versus last year.
For the holidays, the association is pushing for consumers to buy gift cards to their favorite restaurant.
"[The] restaurant industry is usually the one that everyone reaches out to normally for local sponsorships, athletic teams, little league teams, things like that. So it's kind of time to turn that around and help us out a bit, that's all we ask for," Berry said.
Winter is also the slowest time of year for the industry.
Berry warns it will be even harder for some restaurants in-town to weather the storm, when it arrives.